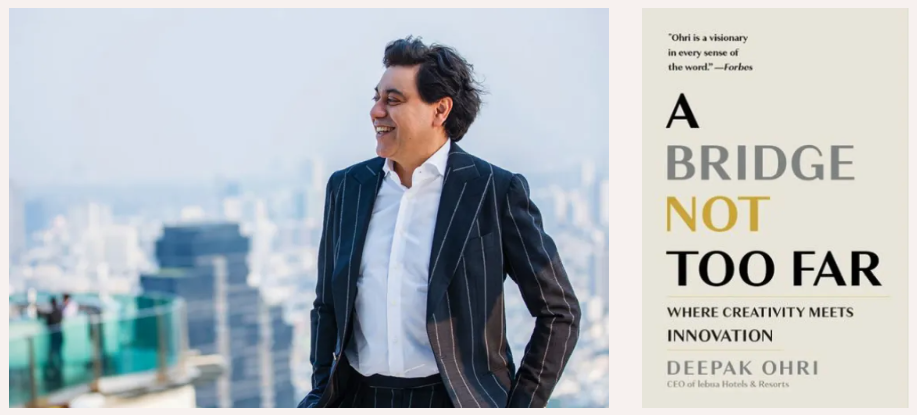 By Raini Hamdi 5 Feb 2023
If you're a fan of Deepak Ohri, A Bridge not too far is a magnificent gift from the man himself.
Not everyone is a fan of course. There are enough examples in his debut book of the naysayers, disbelievers, bigots, people crimson with jealousy, or others to whom he comes across as too extravagant, too arrogant or too brazen.
Attending his first World Travel & Tourism Council summit, in Washington, Ohri met a hotelier who snidely remarked, "The problem with you, Deepak, is that you are all over the place. This is a summit for those above your level. What are you doing here?"
Ohri has indeed criss-crossed continents, gone places and rose to become a global hospitality personality. He is most famous for turning the massive rooftop of the State Tower in Bangkok, called the Dome, into an ultra-luxury dining destination. This was in the early 2000s, when Thailand was still more celebrated for street food than sky dining.
But he went viral, as we say it today, thanks to his jaw-dropping One Million Baht Dinner dare, which received worldwide coverage worth more than the amount each diner spent that evening – $30,000 in 2007 – for a 10-course dinner created by six chefs, each a three Michelin star. A look at the menu – and the finest champagne and wines served with each of the course – is the most delicious read of the book.
If you are a marketeer, A Bridge not too far is a must-read. Earlier in his career, Ohri had to fill up a 600-seat German restaurant/brewery, Brauhaus, in an unpopular location in Bangkok. Since people were always stuck in traffic (still today), and the majority of them would listen to the radio, he hired an ad agency to create a radio ad spot, which simply was: "Where are you? I am at 6611111."
Curiosity got people in the door, "but where we really excelled was in our service," Ohri recounted.
Ohri, CEO of Lebua Hotels & Resorts, shares 30 takeaways from his life. These are the fundamentals of success, such as believe in your dreams, value your mentors, and failure is the best teacher (oh yes, he had his fortune wiped out due to a bad investment).
The one that's not on the list but is clear throughout the book is that Ohri understands who he is, what he wants in life and has the courage and determination to reach for it. He was that spunky kid who lived in the lower middle-class side of the road and believed with his whole heart that one day, he would cross to the other side of the road where the rich lived.
Ohri hungered for a life of luxury, wasn't ashamed of it and was fortunate to have plucky genes to go for it. There was also the added motivation to prove a point.
"I especially wanted the bigots of the world to see that an Indian had the capability to open a non-Indian restaurant. That an Indian can create quality fine dining menus and cater to the needs of all classes of society," he wrote about the opening of Sirocco, one of the fine-dining restaurants at the Dome.
A Bridge not too far also gives insights into how the industry worked in the 1980s to 2000s and what it took to reach the top of the tower. Not a lot has changed.
His autobiography is a feel-good, rags-to-richest story of a man who is not just a personality but a real character – whether you can stomach him or not.
Source : https://hotels-asia.com/the-man-who-has-the-last-laugh/